Whiz kid to entrepreneur
by Jane Larson
10/25/2000
The Arizona Republic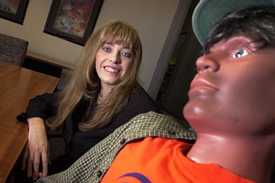 Teri Spencer's not the mother of the Internet, but she's close.
A University of Arizona engineering grad, Spencer took a civilian job with the Army in 1989 and became one of the young guns who helped build vast computer networks at bases worldwide.
Today she's president and chief executive officer of Ephibian, a Tucson company she and four other civilians from Fort Huachuca started in 1996. Ephibian prides itself on hiring the "technical elite," schmoozing prospective clients with bright orange-and-blue Nerf guns and wearing orange "Will build Web sites for equity" T-shirts at garage.com conferences.
So complete is Spencer's transformation from military whiz kid to Internet entrepreneur that she won President of the Year honors from AZSoft.net, the Arizona Software & Internet Association, this year.
"I was in the military, and I hated the people I worked for," AZSoft.net President Ed Denison said. "It says a lot about her" and the culture she created that Ephibian employees nominated her for the award, he added.
The Army of the late '80s was changing from communications and mainframes to the world of databases and networking technology with rollouts all around the world.
"A lot of people jumped, because they'd been doing something for 20 years, and you had a lot of kids coming out of school . . . taking on that level of responsibility," Spencer said.
At one point, Spencer was managing a team of 100 government engineers while working with a private contractor on a $1 billion installation.
The team frequently called hardware resellers as late as 9 p.m. One couldn't believe it.
"He'd say, 'What are you guys still doing there? This is the government you're working for. You should take your smarts and your intellect and go out and sell this somewhere else,' " said Henry Guy, chief financial officer.
The supplier introduced Spencer to his financial backer, a New York holding company named Xsource Corp. It put $2 million into Ephibian and now owns the company.
Ephibian specializes in putting businesses on the Web. Half its clients are household names such as AOL and AT&T; the other half are "never-heard-of -'ems-but-going-places," Guy said.
Ephibian did the portal for San Francisco-based Contest.com and parts of the real-estate transaction software for Scottsdale-based Homebid.com.
"We had gone through many different opportunities in the Bay Area," said Kurt Ludwigsen, president of Contest.com. "Ephibian seemed not only as qualified as companies here, but their people are a little more dedicated."
Homebid.com selected Ephibian as a vendor because of its employees' Java and Unix skills, said Mark Armstrong, vice president of technology.
He said Spencer is a straight shooter who is good at adapting to change.
Ephibian has 50 employees. Everyone must be a generalist and know the underlying systems, plus have a specialty such as Java.
"The kind of folks we want are the ones who leave at the end of the day, go home and log back on for fun," Guy said.
It's not as businesslike as it sounds.
Spencer believes in celebrating successes with tubing trips, bowling parties and visits to Kartchner Caverns. Ice cream, Nerf guns and $80 yo-yos make for popular incentives.
The company hopes to open a Phoenix office by year's end.