Dot-com surviving, thriving
by Mike Fimea
05/03/2001
Arizona Business Gazette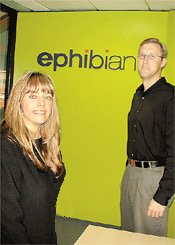 In a world where dot-coms are falling like condemned buildings, Tucson-based Ephibian is rising.
Ephibian, which opened a Phoenix office in April, concentrates on the back end of the Internet, well down the cyberpipe from glitzy Web sites and streaming video images. The firm's engineers build customized software that helps businesses handle the inevitable crush of electronic commerce.
"When it came to the Net, people had the mentality of 'if you build it, they will come,' " Chief Financial Officer Henry Guy said.
"But once they come, can the Web site do what it needs to do?"
The problem is one of the favorite terms of technogeeks: scalability; that is, the capacity of a site to handle exponential increases in traffic.
"It's tough to have a site that's both scalable and high performing," Guy said.
"A lot of companies can do Web design, but they're really creative types who've learned a little technology along the way."
Some firms try to build scalability into their sites by using off-the-shelf software, changing and adapting it to their needs. But the process is hit-and-miss at best.
"If you need the (commercial) product to do something that's not available in the current version, you have to wait for the next revision of the source code," said Teri Spencer, president and CEO of Ephibian.
Spencer, who cofounded Ephibian in 1996, took cues from her work as a systems engineer for the Army.
She led a team that redesigned information systems at more than 60 Army bases around the world.
The billion-dollar project created Internet-protocol networks that connected tens of thousands of users, saving the Army more than $80 million annually in personnel costs.
"It all comes back to return on investment," Spencer said. "If you want to reduce your operating costs, you have to get your product on the Net quickly and you have to prove it quickly."
That philosophy has enabled Ephibian to turn a profit for nearly three years. Although the privately held company does not disclose specific numbers, Guy says revenues for the first quarter of 2001 were 40 percent higher than a year earlier.
Two local companies have tapped Ephibian's expertise to develop specialized software.
Beverly Babb, who directs member services for the National Speakers' Association in Tempe, says her company needed a database for administrative functions plus a system that could deliver content to its 4,000 members through a Web-based application.
"This is a huge project," Babb said. "Even if we had the technical skills, we didn't have the resources to pull it off."
Ephibian proposed an expandable product run on Linux open-source software. Using Linux was important, Babb noted, because the association's old software was built with Foxpro, a software platform that no longer provides technical support and can't be upgraded.
"It makes us less susceptible to market forces and we can provide more services to the members," she said.
An example is the "ask the experts" function, where members can submit a question that is e-mailed to experts on a particular topic. The response is then e-mailed to each member who has indicated an interest in that topic.
Ephibian began working with the association in February; Babb says the completed project will be delivered by July.
At Bar S Foods in Phoenix, the idea was to build a secure, proprietary system that brokers could use to submit their food orders. Bar S employs between 100 and 200 brokers who fax their orders to company headquarters, where the orders are manually processed.
"We built a pilot system where the orders could come in electronically, but we didn't know how to set up a secure server or work with coding," said Dave McEldowney, systems development manager at Bar S.
The solution, which Ephibian and Bar S have worked on for three months, will allow brokers to access a Web site to send orders and track the amount of business they generate. Forms used by the brokers will also be available in an electronic format.
"We looked at other companies but Ephibian was young and dynamic and offered us a highly customized product," McEldowney said. He says the finished product will be tested within 30 days.
Ephibian has five software developers in the Phoenix office, a 3,500-square-foot space in the Central Corridor. Spencer says the company will hire another 15 developers by the middle of 2002.
"We hire slow, because we want the best and the brightest," she said.