Lessons to be Learned
by John Roberts, CRN
02/23/2001
CRN
As tech-stock crashes, dot-com burnouts, IT spending slowdowns and company overhauls continue, many solution providers are wondering where the technology sector is headed. One road map of their business fortunes may lie in the automobile industry.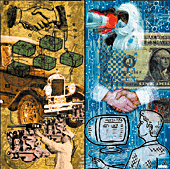 The auto industry may provide a glimpse into the future as the tech sector rolls toward consolidation.
Just as the Big Three car manufacturers,Ford, General Motors and Chrysler,emerged as that industry's dominant players, high-tech will have its own winners as it rolls into a consolidation phase. And the companies that heed the lessons of the past by setting the pace in products, services, standards and processes will steer their markets, while the others will run out of gas.
In the e-business software realm, for example, several vendors,including i2 Technologies (supply chain management), Ariba (e-marketplaces), Vignette (B2B e-commerce), Check Point Software (NSDQ:CHKP) (network security) and Siebel Systems (CRM),have already raced into pole position in their market segments. (For more on these market leaders, go to crn.com.)
"We don't go into a market unless we think we can be No. 1 in that market," says Kurt Olnhausen, general manager at Siebel, San Mateo, Calif. "If we feel we can't get to that point, we don't go in,or if we are already in, we get out."
In the embryonic years of the auto industry, many manufacturers opted to get out. Between 1900 and 1905, 267 firms produced gas-powered vehicles. During that time, half of those left the industry as standard designs and consumer tastes took shape. But other car makers took their places, and the market expanded as manufacturing processes and products improved.
The number of auto makers peaked at 274 in 1909, a 50-fold increase in just 13 years. But as large, established companies like Ford began leveraging their market positions and production innovations, the number of car makers plunged, dropping to 121 companies by 1918 and to just 44 by 1929.
After that period, the industry saw few new entrants and a greater number of manufacturers exited the market. Today, only the Big Three remain in the United States, and Chrysler,now merged with German auto maker Daimler,is on shaky financial ground.
High-tech is traveling a similar route. Already, the ranks of systems integrators, distributors, Web integrators and ASPs are thinning as the smooth ride fueled by the Internet's inception in the mid-1990s turns bumpy.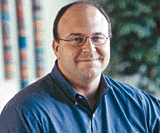 "Focus, alignment and execution will be the keys in the next wave of e-business." --Mike Troiano, president, Primix Solutions
The channel landscape has seen its share of changes, too. Inacom, born via consolidation in 1991 when Valcom merged with Inacomp, agreed to buy Vanstar in 1998, making it the largest PC integrator. But last year, whipsawed by an e-commerce-hungry economy, Inacom declared bankruptcy and ceased to exist. Consolidation and market flux have been no less kind to distributors. CHS Electronics, Merisel, Pinacor and others have fallen by the wayside, leaving two global distribution giants: Ingram Micro (NYSE:IM) and Tech Data (NSDQ:TECD).
As shown by the auto industry, market forces can get brutal when customers decide what works and what doesn't. Internet services firms such as Scient, Razorfish, marchFirst and iXL saw an onslaught of Web design and integration work in 1999 and 2000. In turn, their market capitalizations soared and their businesses mushroomed. Then the dot-com bust hit, and customers demanded vertical-market expertise and strong track records. In the past six months, a parade of Web integrators have announced layoffs and industry watchers now predict a shakeout.
The ASP arena also stands to contract. Analysts say the ASP model is having trouble gaining broad acceptance, and the slowing economy and dot-com failures have hurt sales, as shown by the demise of ASP Pandesic. By 2002, 60 percent of all ASPs will fail or be acquired, AMR Research predicts. In addition, Gartner forecasts that 60 percent of the 480 ASPs it tracked in 2000 will disappear by year-end because of mergers, competition, bankruptcies or a lack of funding.
"Focus, alignment and execution will be the keys in the next wave of e-business," says Mike Troiano, president of Primix Solutions, a Watertown, Mass.-based e-services firm. "What used to be called bold action is now considered reckless. You now have to prioritize, make hard choices and extract maximum profit from your assets."
To that end, the ability to anticipate and react to marketplace changes,as dictated by customer needs and wants,goes a long way. Companies that fail to do so often pay a high price. For example, in the early 1920s, Ford made no changes to the Model T even though its rivals were establishing new standards in production, design and marketing. By not meeting those challenges immediately, the company lost its market dominance. GM passed Ford in sales in 1927 and again in 1931, and thereafter Ford never regained the lead.
Ford did, however, set a cardinal business rule: Leverage core competencies and don't try to be all things to all people. Company founder Henry Ford's simple business plan was to sell cars to everyone and mass produce them from interchangeable parts. Likewise, high-tech firms should be able to boil their business strategies down to several primary goals. "[This] is absolutely essential to success in the future," Primix's Troiano says.
10 Lessions For High-Tech Companies
1 Develop a clear, focused business strategy that leverages core competencies.
2 Set a core objective,establishing an industry standard or enhancing an existing one.
3 Use other factors, such as marketing channels and branding, to help develop an industry standard and get a leg up on rivals.
4 Maintain a secure financial base.
5 Develop an intimate knowledge of your products, markets and customers.
6 Don't be afraid to partner with other companies,even rivals,to further your goals.
7 Think ahead. What will keep your company in a favorable market position?
8 Don't hesitate to discard one technology or solution for another. Constant innovation is needed to establish a standard.
9 Select personnel carefully. Hire top-notch staff that have specific, necessary skills.
10 Consider staying private, at least early on. It can avoid some of the problems associated with stock market changes.
What's more, those core objectives should reflect a single one: To establish an industry standard or enhance an existing one. An "industry standard" can be defined as the product, service or business practices that ultimately win the loyalty of the market. Ford, for instance, became the early leader in the auto industry by establishing both product (the Model T) and production standards (the assembly line).
Companies such as Check Point and Ariba are following suit in the technology arena, solution providers say. "Check Point got in early and hit on the right formula," says Tim Carney, founder and CEO of The Network Guys, a Fremont, Calif., network solution provider. "Now they have the name, momentum and market share. They will continue to dominate their market space, and in a couple of years they could be the only independent, stand-alone network security provider left."
Darius Vaskelis, vice president of the digital markets group at Inforte, a Chicago-based Web integrator, cites Ariba as setting the standard in
e-marketplace products and support.
"We want to deliver advanced technology for our clients that will give them a real competitive advantage, and Ariba is one company that offers new and developing technologies that provide such an advantage," Vaskelis says. "Their product lines change very quickly, with maybe three new releases a year. And each new release offers significant increases in functionality. They also support our ability to better service customers by supplying the training we need, as well as providing broad access to support. These are the kinds of companies that we want to partner with."
Once established, a standard can thrive for a long time. After its debut in 1908, the Model T ruled the auto world for well over a decade, in some years accounting for nearly half of U.S. auto sales. Similarly, Microsoft (NSDQ:MSFT)'s ability to establish Windows (and previously DOS) as the standard operating system for PCs has kept Apple (NSDQ:AAPL) Computer, whose Mac OS only runs on its Macintosh computers, a bit player in the PC market.
High-tech firms offering proprietary products,even if they are technically superior,are doomed to failure or, at best, marginalization, industry executives say.
"Companies with a proprietary architecture cannot adapt and modify as readily to customer needs," says Dave Shirk, senior vice president and general manager at Vignette, Austin, Texas. "With an open architecture and technology set, you have the ability to quickly adapt to changing market conditions and make your business model that much more efficient."
Of course, the ability to gauge market directions, set business goals and develop bellwether products stems from intimate knowledge of one's industry,especially customers. Auto pioneer Walter Chrysler was famous for keeping his ear to the ground, ensuring that he grasped how the cars were made, what types of them were being produced and what products customers wanted.
"These days, we keep a fixed team on-site at our largest clients," says Neil Isford, president and CEO of Plural, a New York-based Web integrator. "This gives us realtime feedback and puts us in position to immediately solve problems and needs that arise," he says. "Staying ahead of the market, anticipating customer needs, wrapping in new technologies,it's all part of the process of establishing close, long-term customer relationships."
For most IT vendors and service providers, the source of in-depth industry knowledge lies in channel partnerships. In the early days of the auto industry, successful manufacturers demonstrated an ability to partner with other companies,even rivals,to meet business goals. And in high-tech, the companies that are finding out what works best with customers are doing so through their solution provider partners.
"Solution providers are critical in terms of operational support and global reach," says Vignette's Shirk. "They understand the deployment models, have lots of expertise in specific verticals and give us a lot of feedback on how to change poor products and services to keep our customers satisfied."
Partnerships are a must in establishing marketplace momentum, Siebel's Olnhausen says. "If you want a 50 percent or 60 percent market share, you need partners in the marketplace. Solution providers, being closer to the customers, are instrumental in delivering products and services. We view these relationships as something to be leveraged, not exploited," he says.
The Network Guys' Carney says Check Point also got to the top of its class by tightening its ties to solution providers. "What distinguishes Check Point from its competitors is not only how good their product line, support and co-op programs are, but also how they have solidified their channel relationships," he says.
Outside help is key to developing market agility, says Henry Guy, CFO and marketing director at Ephibian, a Tucson, Ariz., Web infrastructure provider. "These days, you need a strong technology partner to help you evaluate a technology up front so that you don't waste a lot of time," Guy says. "But you must make sure your partners are objective and not married to any single technology. Chasing technology off a cliff can be disastrous."
Over the past year, financing topped the list of concerns of many high-tech executives as they watched stock prices swing. Early car makers shared similar concerns. GM was a day away from bankruptcy and dissolution when company executives met with creditors on Sept. 10, 1910. GM executives, however, had developed solid relationships with leading financiers, which allowed the company to survive.
In the same way, high-tech firms need to maintain a secure financial position and ready sources of financing to withstand hard times and acquire other companies or technologies that can raise their market standing. "Financial relationships are a key, not just from a current operations standpoint but also for future cash infusions if they become necessary," Ephibian's Guy says. "Having multiple [venture capital] partners can pay off by providing alternative sources of financing and a more diversified range of business experience and contacts."
To raise capital and establish a market position quickly, many high-tech companies have gone public. But the moody stock market has some firms thinking twice about that move. As a result, staying private,at least early on,has taken on renewed luster. In the auto industry, Ford remained private for 53 years after its founding, allowing executives to maintain total control over business operations.
Solution providers, however, come down on both sides of the issue.
"Staying private has given us the flexibility to carry out our business plans the way we want to," says Plural's Isford. "Your credibility in the marketplace is damaged when share prices drop as much as some companies' have, and this is something we have avoided."
But Primix's Troiano has a different take. "Being public and going though difficult times is like growing up on stage where everyone can see you. It increases the pressure on you to perform," he says. "But going through this baptism of fire makes you a better company in the end."